It's not my first shed, but it's probably my best.
The Snowies are pretty special. The Bellevarde team have built here a few times, but never for me. When the lot in Wollondibby became available, I couldn't resist. Sherry and I have a few horses and wanted some simple stables with room for a guest house—and maybe a place to go after a ride. With the help of one of my oldest colleagues and good friend Rob Brown, and my long time collaborators Vince Myson and Steve O'Ryan, it's become a good bit more than that.
Rob and I had been working on another project when I mentioned the land. He said he'd like to design something special for it.
The plans changed many times. Luckily, Rob was always keen for the challenge. In some ways the place was designed on the run but I think being agile let it evolve naturally and keep getting better. It went something like this—I'd cause the problems, Steve would find a solution and Vince would draw up the changes. When I say 'problems', I wanted the stables to show some of the detailed elements I've picked up over 35 years building houses.
I believe buildings are all in the details—and this building shows it in spades.
The exterior was always going to be corrugated steel because it's an Aussie shed. The eaveless design helps us beat the worst of the wind, snow and bushfires and it looks pretty good as well. The interior is full of my favourite materials, the perfect partners—concrete and steel.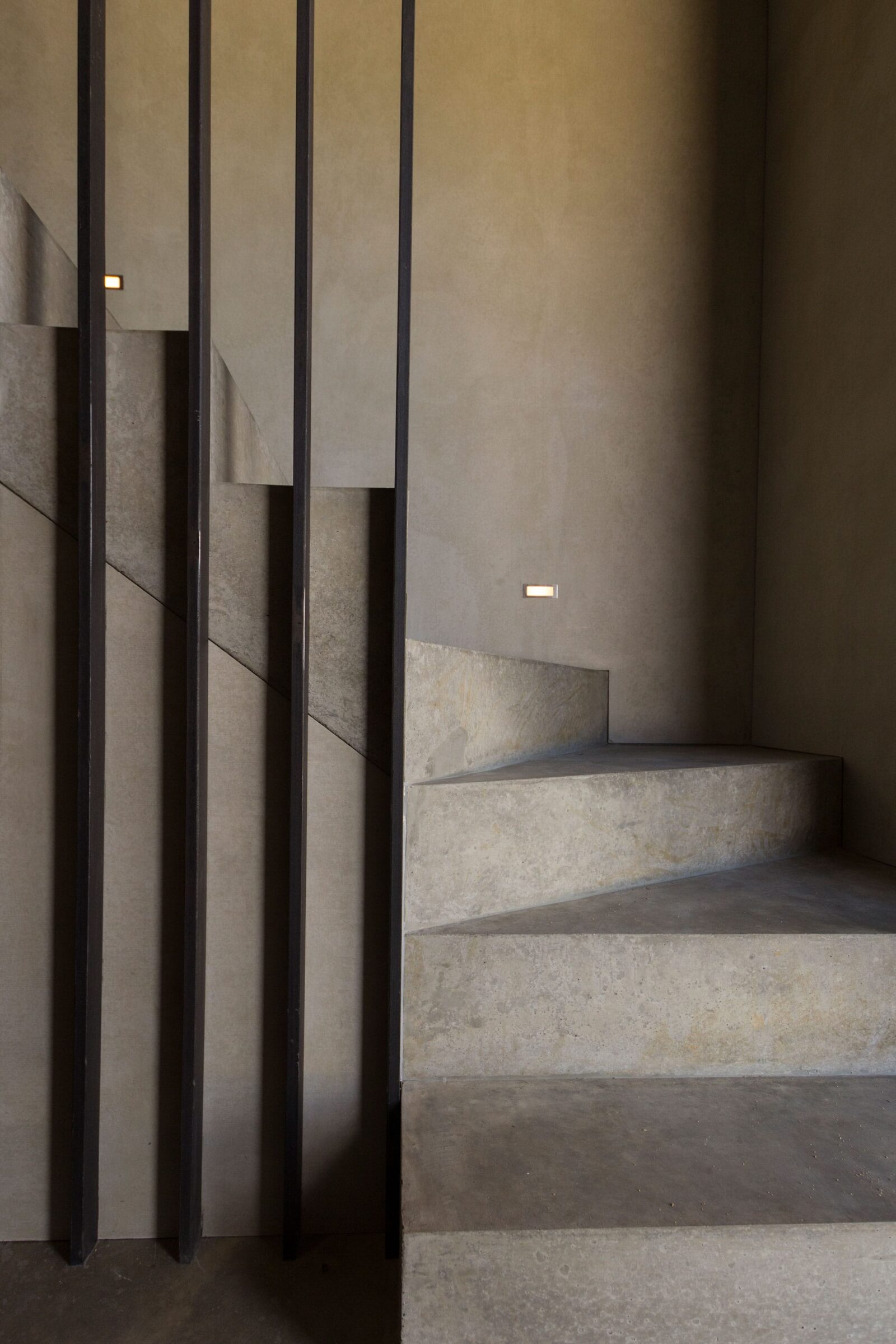 Steve O'Ryan, Dane Martin and their team of builders must get credit and our heartfelt thanks for an excellent job. Now I know again why so many of our clients speak so highly of Steve. Everything was conducted calmly and professionally and finished to the highest possible levels. Even when I decided to completely redesign the interior and add an extra bathroom after the structure was already built, Steve's only concern was finding the best way to execute it.
We had the rolled corrugated exterior steel cut on-site. Putting it together perfectly took some time and a good amount of skill. Our engineer, Ken Murtagh, deserves a mention here. He and Steve found ways to do things even I thought might be impossible. I'm still impressed with the smart way they concealed the downpipe in the subtle curves at each end of the building.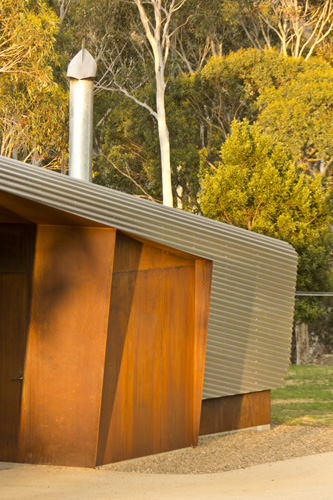 Steve created some special hinges to hang the heavy steel sheets in the covered entrance area that, with the patina, have almost completely integrated into the form. It's beautiful and ingenious. As a builder, that's the kind of thing I love.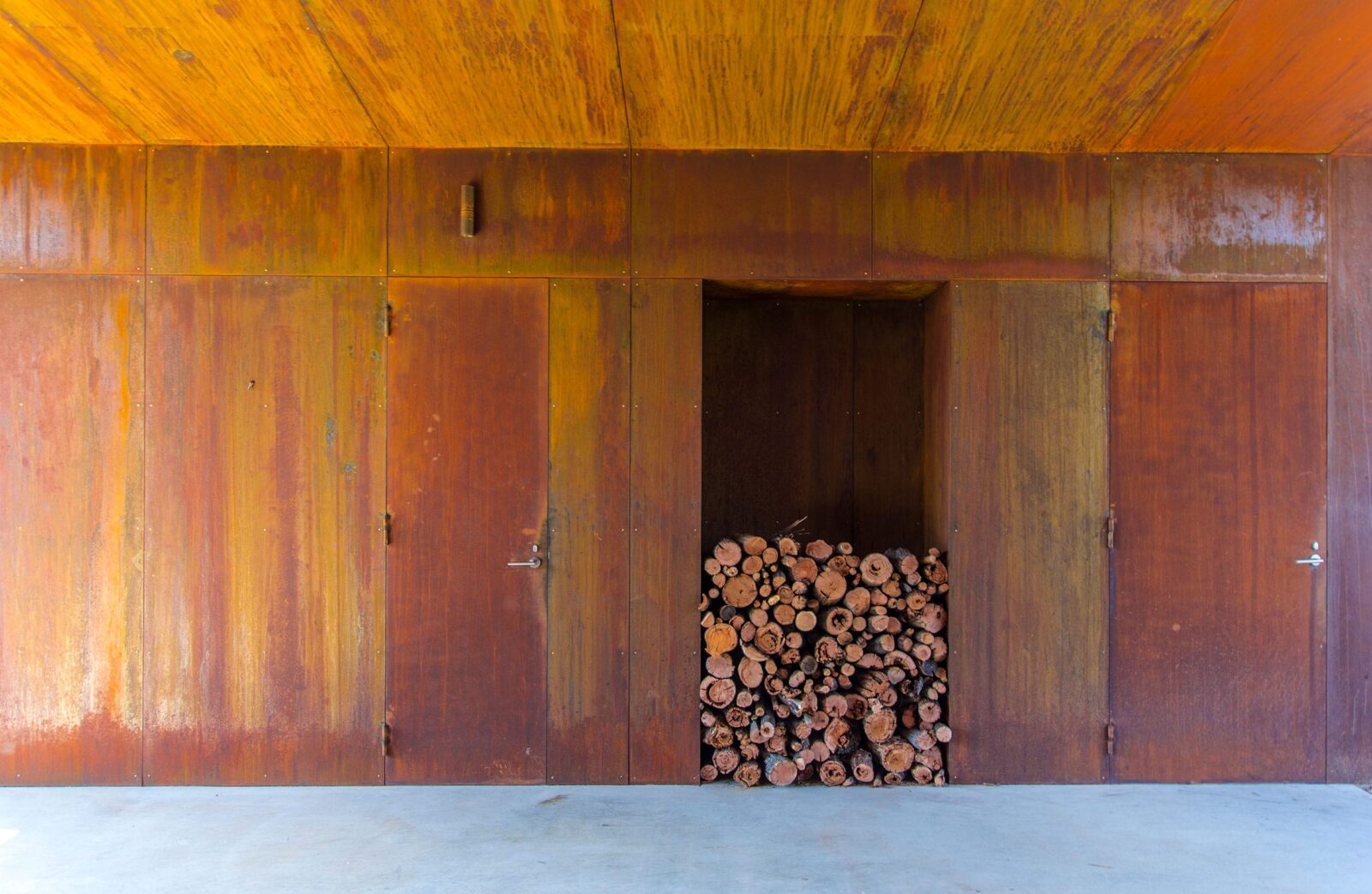 We couldn't be happier with the finish of the treated steel. The reds remind me of peeling snowgum bark. There is outstanding work everywhere. If I had to choose a couple of my favourite things—I like the very neat sashes and frames around the southern windows and the combination of concrete, natural waxed steel, and fibre-cement used in the stairs.
Michael Bates took charge of the minimalist landscaping. His elegant fire pit has given us another warm place to sit back and take it all in.
We're at our most relaxed here. The horses seem to like it too.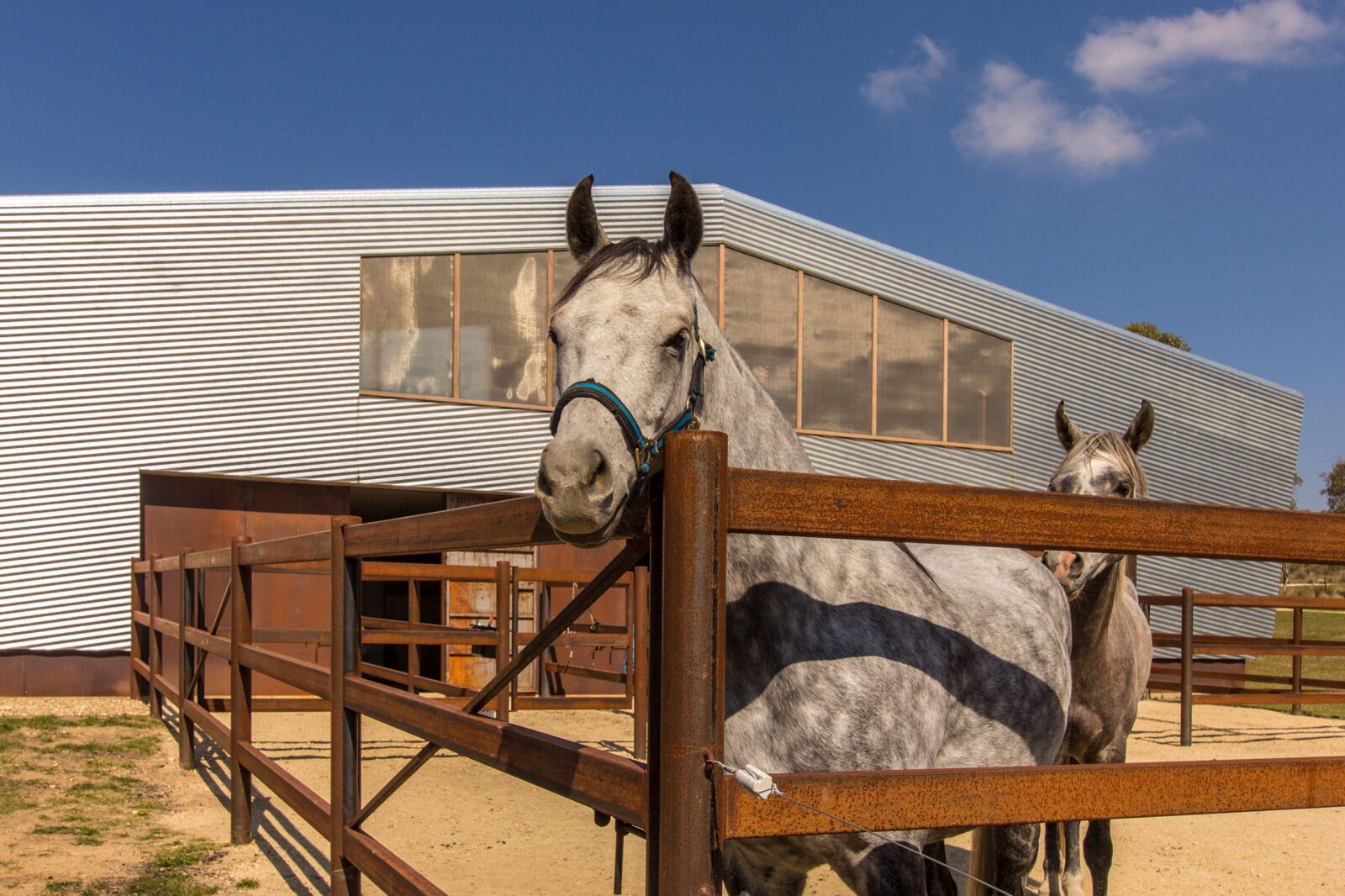 Crackenback turned out better than I think any of us expected and it's a credit to everyone involved. It's also managed to win a few awards, not bad for a tin shed.
Feels good to be in the client's shoes.
Being a client of Bellevarde has been such a good experience, we are going to build a real house close by.
read more