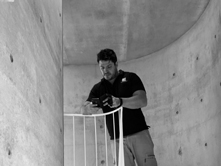 My dad was a town planner so he'd often have plans and architectural drawings sitting around in his office for me to look at as a kid. Those things sparked my interest from an early age and led me to study architecture and building.
After high school, I did an advanced diploma in architecture technology. We learned how to use CAD but there was also a lot of hand-drawing involved which I really enjoyed and still do. At some point after the course was completed, I decided I wanted to be out on-site rather than being in an office so I ended up going to uni and doing a bachelor of building and construction management.
One of the guys I went to uni with, Julian Petrie, had landed a job with Bellevarde and he put me in touch with them. In 2011 I started as a labourer/contract administrator.
Working for Bellevarde is never dull. It's often challenging but always rewarding at the same time. A lot of construction companies build similar designs so the tasks might end up being monotonous. With Bellevarde, you collaborate on highly architectural and customised builds where the usual way of doing things isn't necessarily the way you should be doing things. You're always having to think on your feet and come up with new and innovative methods to achieve the desired result. I do a bit of drawing here and there to help actualise the details. I enjoy the to and fro you have with the Architects and site manager to devise the best outcome on whatever you're doing at the time. Chances are, it won't be the same for the next job. It keeps you thinking.
Every site manager you work with brings a whole raft of different skills and insights. They approach things in their own way but they're all striving for the same high quality. I've enjoyed working with many Bellevarde site managers and I've taken something from every one of them. It's always a learning process and that's why I enjoy it. They're a good bunch of people. A lot of them have been here a long time too. A lot longer than me. That says a lot about the place I think.
John pushes a certain drive towards perfection. To see the way he's regarded and the respect he gets from other people in the industry, it's really something.
My hope is that Bellevarde just keeps on doing what they're doing.