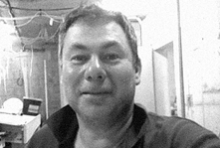 Over his first thirteen years with the company Adam Howe had built eight of Bellevarde's major houses, to a total value of $40m.
Six of them have won major architectural and/or building awards.
His clients love and respect him, architects seek him out and he surrounds himself with tradespeople who share his commitment to doing things as well as they can be done. They reckon he's a good guy.
So how did Adam start with Bellevarde?
'I answered an ad in the paper and found myself working with Steve O'Ryan, Bellevarde's country manager.
'It turned out that it was Steve and John Fielding who together established Bellevarde's passion for building things as well as they can be done. So I learned heaps, and loved the work and the work ethic.
'Then John just kept giving me more and more responsibility on some of the best architect-designed houses in Australia—good, challenging, thoughtful houses. What was there to not like about that?
'I guess it all started for me at TAFE. There was a sign at the front of the class which read:
"Pride of workmanship means do it once, do it well, build a better Australia."
'It seems a bit old-world, but it really made sense to me—still does.
'I went through my training in the days when you had to learn about every single aspect of building—from cabinet-making, to electrical, to air conditioning. I remember the guy who was teaching us to become good managers. He insisted that before our evening classes we had to go home, have a shower, put on clean clothes and then join him.
'He convinced us that our prime task was to get great work done by other people. So on top of having all the skills and knowledge, we had to present ourselves as well-organised managers.
'It's why I get to work around six am when it's quiet and I can set things up for the day.
'It's not about money—I've got mates who earn heaps just building fences—but where's the fun? My life is about always seeking to do things right. Because that is where the personal satisfaction comes from.
'The best part for me has been working with great owners and architects. They have given me the opportunity to work on stunning houses. On the way, we have assembled a terrific team of tradespeople. As the man said, the task is to get them to do their best work—with a smile. That's what makes it rewarding for everyone on the team—and at the end of the day that's the stuff that makes you smile as you are driving home.'
A few words about Adam Howe from Steve O'Ryan
'I have never heard anyone say a bad word about Adam. He is just a good guy, never flustered, always has time for you.'
It is also not widely known that Adam takes out the 'sexy thing' prize year after year at the Bellevarde Christmas party.
It seems good guys do OK.