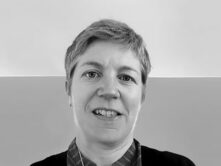 I'm an office administrator at Bellevarde in Canberra, and I've been here longer than just about everyone, with the possible exception of John.
I take care of client invoicing and staff payroll which is a big responsibility but I'm part of a great team. Some people call me Super Ames but I suspect it's because I do a lot of superannuation paperwork.
I first met John nearly 20 years ago when I answered an ad in a local newspaper looking for an office admin. Back then, most of the builds were in The Snowies and Canberra. It's been gratifying to see the business steadily grow to include jobs in Sydney and beyond. I think I have probably stayed so long because the Bellevarde people and our clients are all so nice and easy to get along with.
Canberra is a great place to live and work, especially if you love Aussie rules and running like I do. I recently hung up the footy boots after more than 15 years with the Tuggeranong Hawks to concentrate on distance running. In July 2017 I was first woman across the line in the Australian Outback Marathon. Office admin is a breeze compared to 26 miles through the scrub but they're not so different really. It's all about putting your head down and getting stuck into it.
I'm lucky enough to enjoy the challenges of both and I hope to be working with Bellevarde for many happy trails to come.
Amy Currie
We're very proud of Amy (Super Ames), all her invaluable work at our head office, and her first place finish in The Australian Outback Marathon—
The Bellevarde Team