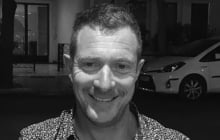 Born and bred in New Zealand, I did my apprenticeship in carpentry and was running my own business when, in 2008, I decided it was time for a change and started looking in Sydney for a new challenge.
I spoke with a few building companies but John Fielding was the only one who took time out of his day to show me around some sites. John's passion for building was obvious.
When he offered me a position, I decided to leave New Zealand behind and move to Australia.
I started as a leading hand on a few Bellevarde jobs. One day, a Bellevarde client's place got broken into and John asked me to go around and take care of the repairs. Looking back, this was probably my first maintenance job for Bellevarde.
Maintenance is just as challenging as building. An issue that might appear straightforward at first glance can often turn into something more involved. With Bellevarde houses, almost everything is custom made. We make sure to repair and maintain things in the same manner they were first built, with great care and attention. It's not the kind of job where you can clock off at 5. Some clients prefer we be there later or earlier and we're always happy to accommodate. If clients are at home when we're working, we make every effort to be as unobtrusive as possible.
Not all the work I do is maintenance. Bellevarde build homes that don't tend to need much upkeep so I do the occasional smaller renovation or apartment re-model, kitchen renovation or new terrace.
I find working with Bellevarde clients to be the most rewarding part of the job. Once you have solved a maintenance issue to their satisfaction, a trusting relationship develops. The nature of the job means, many times, clients give me access to their home and leave me to it while they are out or away. I take this trust very seriously. Most of the work I do now has come from clients recommending Bellevarde Maintenance to their friends and family.
Bellevarde is the only Australian company I've worked for. The culture John has created makes it a pleasure. I couldn't see myself anywhere else. For one thing, it's too cold to go back.
Andrew Coory, Maintenance Manager
Andrew has the important responsibility of preventative and scheduled maintenance. His work ensures that our client's homes are maintained in the best possible condition, reducing long term repairs. We're lucky to have someone so passionate, skilled and committed.
John Fielding