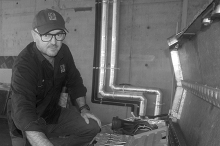 I always had an interest in building. As a kid, I remember our family became good friends with the guys who built our house. Thinking back, it was probably them who inspired me to become a carpenter when I finished school.
I'd been working in London on and off for several years and when it was time to come home I was recommended to John Fielding by a mate who had worked with him in the mountains. My first job for Bellevarde was in Potts Point under Daniele Feltracco. It was an amazing build and it introduced me to the fine art of doing things the Bellevarde way—no compromises. I hadn't been there very long when I was suddenly called away to another incredible Bellevarde job at Whale Beach.
It's like that with Bellevarde, there's always something exciting going on. From Whale Beach, I went on to another project in Avalon as a leading hand and joint foreman. When the site manager from another project closer to town went overseas I stepped in as caretaker. I have done that several times for John over the years. I think it's because I'm flexible and easy going enough to get the job done to high standards under any circumstances.
John knew I wanted my own project and after success at Avalon he gave me responsibility for a warehouse conversion in Paddington where we stripped the place bare, added a small extension and also a pool. The next year it was a refurbishment in Tamarama, the year after that an apartment in Bondi. It's been a great ride and it doesn't look like slowing down anytime soon.
The challenge in working at a job like this is that every day is different.
You're fitting a bespoke design to a specific site. I just love the challenge of being able to come up with details that are functional and look so good you don't even notice them.
Being at the interface between architect and client and getting their desired architectural outcome is demanding and very satisfying.
John's pretty easy to work for. His dry sense of humour keeps you on your toes and, with his vast experience, he'll help you find the right solution almost with a throwaway line. He's always collaborative and that means the younger guys get a great sense of teamwork. It's something they can strive for, a culture. As you progress, he gives you more responsibility and I really appreciate that.
Like the guys who built my childhood home, I've become friends with lots of our clients. People respond to the care and attention we put into the work. It's been over a dozen incredible years and I hope to be with Bellevarde for many more.