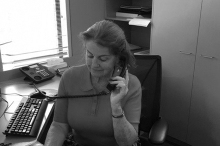 I joined John as the office manager back in 2001. At that time, Bellevarde was mostly building in the Snowy Mountains but the company had just started on some projects in Sydney and Byron Bay. I remember writing cheques for payments and keeping physical book ledgers. Things have come a long way.
I actually declined the position at first but John was very insistent. I thought, oh well, I'll give it a go. As fate would have it, over 20 years later, I am still here and I'm glad because I've loved seeing things progress and change as the staff and the company have matured.
We have had plenty of opportunities to take and hurdles to jump. It's great and it's fun and it's very rewarding to see all the completed jobs, from historic buildings to more modern ones.
There was no 'plan' to arrive where we are today. We just do what we say we will, look after our clients' interests, and work hard. I think the buildings speak for themselves.
The management of the construction finances is of utmost importance to everyone so we work very openly with our clients. Keeping a strong book provides our clients, our contractors, and our team with a lot of security.
The best thing about Bellevarde is the people. There's a real sense of camaraderie. Everyone has their piece of the puzzle to fulfil and the staff are fantastic. The people in my office are lovely and have been here for ages and the people on the building sites are all excellent team players. It's great to see the new site staff make their way up to site managers and stay with Bellevarde.
Best of all, I enjoy my work. You can't ask for more than that.