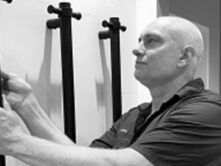 While I've always loved creating things, I came into the building industry a little later than some. I did my carpenter's apprenticeship when I was around 28 then started working as a brickie's labourer. I was into surf lifesaving and rowing at that time and labouring was another good way to keep fit.
In 2008, I saw an ad in the paper for carpentry work and, when I called, I spoke to Lewis Townsend. To my surprise, the first question he asked me was "What are you like on a chainsaw?" I wondered if I was getting a job doing bush carpentry but it turned out there was a Bellevarde project happening at Coogee that involved building a pergola and stairs out of recycled logs. This was my first experience of how working with Bellevarde would be challenging, different and never boring.
At Bellevarde, you work with clients who appreciate the quality of craftsmanship. The tasks are so varied. It's not just traditional carpentry—you're always doing something new, something unique and fresh and it's all down to having great clients who are adventurous and open to new ideas.
I really value and enjoy John's site visits and his wise input. He makes sure that Bellevarde is staffed by the best of the best and he and the other senior guys like Adam Howe, who has been a great mentor to me, have helped me learn to be a better builder over the years. Both John and Adam are just so organised, it's inspiring.
I'm hoping to keep managing sites and working with this group of incredibly skilled Bellevarde tradespeople for the foreseeable future. They make the job easy and enjoyable. Everyone knows what's expected and works hard towards it. A good end result makes everyone happy.