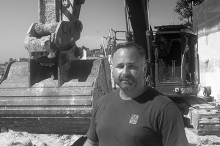 I was a mechanic when I left school and then I worked for a while in the family business of air-conditioning. I'd install the AC on a site but we'd move on before the job was finished which I found a little frustrating. I guess I was always interested in how things went together, but wanted to do it well. I decided to go to uni and get a degree in Construction Management and Property Developing.
Then I got a job with Bellevarde and everything fell into place. I started as a site administrator before I transitioned across to site manager. It doesn't feel like I've been here for more than a decade, that's for sure. You're always doing things right. Every job is slightly different from the next so there's something notable happening, always a new set of challenges to work your way through.
Probably the best thing about working here is the people you work with all care as much about the job as you do. Everyone is on the same page in giving 100 percent so it's rewarding to see things done properly.
Even after more than a decade, I still see myself as a site manager who is always learning. I have a lot of respect for the guys that have been doing it for 20 years or more and we have plenty of those at Bellevarde. They are definitely the ones I've learned the most from. They, as well as John, have been where you are now and can advise you on how to avoid mistakes.
John is a very interesting guy. He always cares. For him, the Architecture and the Build always comes first. It's impressive to see that if he thinks something hasn't been done right, he will take it upon himself to fix it, large or small, just to make sure the job is done right. It's always a learning experience to be around him.
It's a great company.