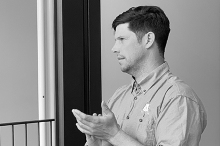 I studied at RMIT and earned a double diploma in building and construction, and building surveying. At the end of the course, I did a carpentry apprenticeship and then worked for a residential building firm. I followed that up with some work for bricklayers and carpenters, gaining valuable experience with a whole lot of different people. A colleague suggested Bellevarde so I had a look at their website and was very impressed. I contacted John Fielding and he offered me a position.
Bellevarde's Adam Howe was building a house in Coogee and I started work there as a contracts administrator (CA). When that was completed, Adam and I did another job in Coogee. I learned a tremendous amount from Adam on those two sites. I had ambitions to be a site manager.
The next big project I worked on was Deepwater with Daniele Feltracco. It was fantastic working with him. Over my first six years at Bellevarde, I got to work with Adam Howe, Daniele Feltracco, Ben Lea, and others. Working alongside those guys, with all their combined years of experience, taught me what it would take to be a good site manager. They were very strong mentors and I still regularly go to them for advice.
Deepwater was an amazing project. At the end, I remember turning to Daniele and saying words to the effect that we may not ever get to do another job at the scale of this place. I was wrong. My very next job was one of Bellevarde's largest ever—House Taurus. Even though building House Taurus was a huge achievement and an incredible project, I still see myself near the beginning of my journey.
When the Bellevarde management team started, I became a shareholder and, for the last couple of years, have also been a director of the business. I really enjoy being a part of that.
I've been with Bellevarde for more than a dozen years and it's constantly gathering momentum. Working within a culture of doing things the best they can be done, you can't ask for more than that. We've assembled a remarkable team of people who are capable of tackling any job for any of our exceptional clients and architects. I look forward to many successful future projects with them.