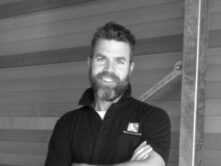 My family didn't have any particular background in building but I had some friends who were doing it and I sort of followed them into it. I did a pre-apprenticeship at TAFE after I left high school and then worked a few jobs with different builders in Queensland and Canada while I did my apprenticeship in carpentry. Those early projects gave me a good grounding in all facets of building. I did everything from setting out, digging footings, tying steel, concreting, right through to final handover.
In 1999, I answered an ad in the paper for a carpenter and, soon after, I met John for the first time. He turned up in a rusty old ute with some plans tucked under his arm. He rolled them out on the bonnet and said "This is going to be your next project… and this is what we want you to do… and this will be the one after that." At that point, I hadn't even decided to take the job. Bellevarde was a much smaller company back in those days but John was such a compelling guy that I decided to take a punt and go with him. I'm so glad I did.
I went from carpenter to leading hand to foreman and now I'm a maintenance manager. Even that comes with some extra hats—like relationship manager. That's just how I like it. The work is challenging but satisfying and no two days are ever the same.
Bellevarde is a great company and a fantastic place to work. It's been over two decades and I still enjoy it hugely. It has opened a lot of doors and opportunities for me to work on these incredible houses. They're all very different but each one is a special project in its own right. I also love working with these incredibly high calibre architects and clients. They're such good people.
John is one of a kind. He's always got a different take. And, even though he has a wealth of experience, he still likes to be challenged. If he comes up with an idea and you have a different point of view, you can put forward your case. He appreciates that and he will give you a fair hearing. It's how we all learn and it's how Bellevarde maintains such high standards. I have a lot of respect for him.
I've actually learned a lot from everyone I've come into contact with at Bellevarde. Everything from new construction techniques to different ways of dealing with people. We work with some of the industry's best contractors and I've picked up a lot of knowledge from them too.
I think Bellevarde has a bright future ahead of it and we're lucky to have a group of dynamic people in the company.