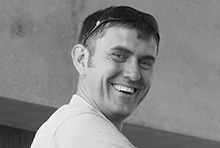 Mick Carroll started at Bellevarde in his 20s and his interest in building got the better of him. About six years later, he had worked his way to becoming a site manager. His friendly nature and knack for problem-solving has helped him develop strong relationships with clients and architects.
So how did Mick start at Bellevarde?
'I came to Sydney in my 20s intending to have the full backpacker experience. All was going well until I landed a job with Bellevarde in Vaucluse. In one stroke I had this great job and no free time to be a backpacker. The feel of that Vaucluse site was completely different to anything I'd seen before. Everyone cared. Guy Ruthven ran the job and he was a perfectionist. Nothing was let pass. John visited regularly and the finished product spoke for itself – curved copper roofs, mosaiced baths with heating in the concrete, flush inside-to-out door sills in stainless. I was hooked. That was about two decades ago.'
'Someone asked me recently why I like working at Bellevarde so much and the answer is job satisfaction. I get to work with the best architects on amazing designs and figure out how to get their ideas from paper to the finished product. The collaborative nature of the process allows us to improve on the design and come up with something even better. Then I get to work with an excellent site team to make sure it all comes together to the client's highest expectations. When a job wraps up I can stand back with the guys on site and be proud of what we've done.'
'A smart man once told me if you aren't learning something new every day, you're not paying attention. Bellevarde definitely provides the conditions where you can continue to be challenged.'
'Looking back on the last couple of decades, I'm grateful to all the mentors that guided me and the people that helped along the way to deliver these projects I know we are all so proud of. I'm lucky that John (in typical John fashion) went with his gut and took a punt on someone untried and untested and gave me the chance to see what I could do.'
A few words about Mick Carroll from John Fielding
I first met Michael on a site in Vaucluse and quickly realised he was a man of extraordinary talents, so much so, I immediately transferred him to an office admin role. Since then, he's progressed through the company to become a site manager. As a site manager, Mick has delivered projects for us in Byron Bay, The Upper Hunter and Sydney.