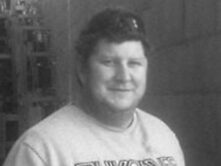 One of the things everyone says is that Scottie Waller is a good, happy guy. He makes people smile.
Scottie hails from Merimbula. In 1998, after a couple of years as a carpenter on commercial projects, he met Steve O'Ryan and started working for Bellevarde in the Snowies.
He must have done well because when the job ran out, John Fielding asked him to move to Sydney to work on the Archer house at Whale Beach. Scottie leaped at it.
He was a quick learner and became an excellent tradesperson. Right now he is being tested on a property in Tamarama where, he says, 'the design calls for walls and windows that are either not parallel, or not square, or not plumb. It's pretty complex and certainly not easy, but it is a great new challenge—especially on days when the winds are so strong that you can't run a string line.' But he loves it.
Why? 'A couple of decades ago John encouraged me to set up my own company, so I am a sub-contractor, but from day one I have only worked for Bellevarde. And that's the way I like it.'
Why? 'Because they only do first-class houses, so I get to work on great jobs, with good guys, who love what they do—and we all seem to have a pretty good time. And I get to move around a lot—sometimes I am a Leading Hand, sometimes a worker, whatever needs doing.' And always, he does it with a smile.
The other thing everyone comments on is Scottie's amazing dress sense. Some claim he is Bellevarde's fashion guru and may well take up any offers to move from carpentry to male modelling.
Then again … you be the judge.
A few words about Scottie Waller from John Fielding
Scottie was naturally a good carpenter, and from the start he showed a real talent for building Class 1 formwork. We encouraged Scottie to focus on it. It is precision work and often very complex. He produces formwork that is millimetre-perfect, parallel, square, and plumb. Formwork so good, Scottie is in high demand for the toughest Bellevarde jobs. These days he can turn his hand to just about anything, and has become a Leading Hand.