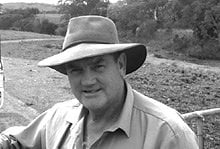 I go back a long way in the history of Bellevarde. I started as an apprentice bricklayer with John in 1978. John founded Bellevarde Constructions in 1980 and I re-joined him a few years later, first as a leading hand and, since 1993, as Bellevarde's Construction Manager, Country Division.
John and I got along from day one because we share the same passion for building things as well as we possibly can. John has taught me a lot and I enjoy working with him, but I couldn't spend my life working in the city. For a start, where would I keep my horses?
I've come to recognise that my job satisfaction comes from building great, architecturally challenging homes. Luckily we've found the best collection of clients who want to build precisely that.
John says one of my greatest gifts is explaining how to perform a building task and I take that as high praise. No matter how complex, I try to make things clear, simple, and easy to follow. It helps bring the owner, architect, and build team together and that's how we achieve outstanding results.
If you look through the Bellevarde Book: I worked on two Richard Johnson houses—Burrawang West, then the Spencer house (the first John built in Sydney); a bunch in the Snowies over the years; Riverside cabins; Alex Popov's Omaru apartments; Crackenback Village; Thredbo Chapel; Sastrugi Lodge; The Chalets @ 1750 in Perisher; Rob Brown's Crackenback Stables. Then in Canberra there was John's own house, the Yarralumla house, two houses on Mugga Way; in the Hunter Valley, Katie Paige's Oakleigh Homestead, by Virginia Kerridge; and on the south coast, Headland House and Escarpment House in Gerringong, and Chris Major's Seagrass House in Tathra. I reckon I've worked on more than 30 great houses.
We've always managed to attract the best tradespeople and top apprentices—people who want to learn to do things right. So there's a bunch of us in rural NSW just building beautiful homes. That's why I like going to work.