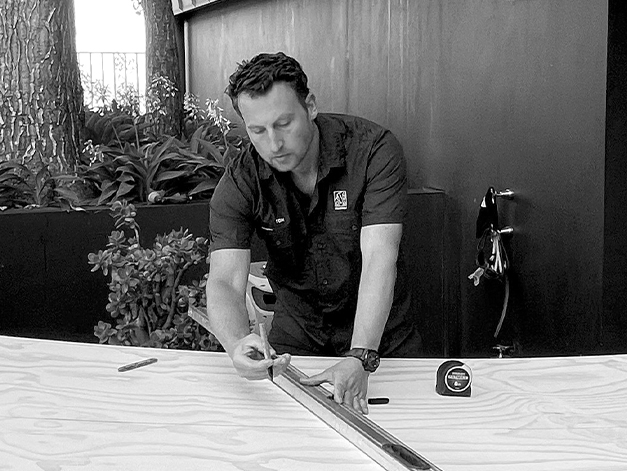 I'm an outdoors type of guy and I've always been good at working with my hands so building suits me pretty well.
I originally got my builder's licence as a waterproofer but, when I started with Bellevarde in 2005, John had me doing finishing and repairing off-form concrete. It helped me develop an eye for fine detail.
After a year or two, I started to move into maintenance. I soon realised that I really enjoyed the variety. It's quite challenging because every day you deal with different projects and you have to find a solution. You're forced to think how you can do the highest quality of work to ensure the client is satisfied.
In the early stages, when I was transitioning to the maintenance crew, I learned a lot from Matt Faulks. It's the same with all the Bellevarde site managers I've done projects with—you're always picking up new information and ways of doing things. They create the amazing houses and we strive to maintain them to the same high level they were built.
Now, I'm one of Bellevarde's maintenance managers. When the site team finish a job, depending on the area, it will be assigned to one of us.
Bellevarde's clients have the attitude that Bellevarde can do anything because, well, we're Bellevarde. It's a high expectation but nothing more than we expect from ourselves—anything can and will be done to ensure the optimum result. No compromises. It comes down to quality and resourcefulness and sometimes you have to think outside the box.
John is a hands-on guy. The thing I enjoy about working with him and for Bellevarde is that nobody ever says "this will do". It's always "what's the best possible way this can be done?" Basically, things get done right.
Probably the best part of the job is the close relationship we get to have with clients. Trust is very important and we make every effort to deserve it. Seeing our clients enjoying their houses brings me a lot of satisfaction.
If things keep going the way they have been, I can only see Bellevarde getting stronger and continuing to do great work. We have a dedicated team and we're building and maintaining some fantastic houses. I am excited to see what the future brings.