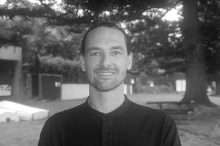 My father built houses for a living therefore I was around architectural plans and building sites from a young age. I was always interested in the design process—how things pieced together, the craftsmanship, and the process of building.
I wanted to kickstart my career, so I worked for a builder during the day and studied at night, completing a University degree in Construction Management and Building Studies at tech.
In 2009 I was introduced to John and the Bellevarde team. I knew they were different. John is a hard-working builder and has an egalitarian and fair approach with people, always managing the business with the same rigour that he builds with. Care is taken with everything, thought goes into every detail. This is why Bellevarde attracts people who think differently and do whatever they do the best it can be done.
I started on site as a Contract Administrator and worked my way to a Construction Manager—continually learning how Bellevarde builds from the ground up. After several projects, I moved into Operations Management where I was able to focus on project delivery, the business of building and providing the project team's support as required.
My current responsibility is to work closely with the Bellevarde Board and Management Team to ensure effective governance and operation of the company and our projects. We are focused on forming the building team, finding the best people, maintaining a robust company, and continuing our long legacy of delivering Australia's best houses. The experience of our site management has ensured that Bellevarde's building principles are passed on to the next generation.
I love the fact that no two days, designs, or projects are the same. When you combine that with our team of highly experienced, talented individuals, and the opportunity to collaborate with leading Architects and adventurous clients—we get to push creative boundaries every day. It requires trust, effort, and care for all in the building team. This is exciting and rewarding for all involved and is what makes building with Bellevarde special.