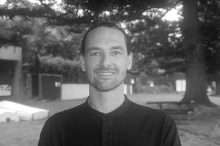 My father was a builder and most of his mates were either builders or architects, so I was around building sites and plans from a very young age. My earliest memories were building Lego towers or tree forts with my brothers under dad's watch.
To earn a keep during school holidays, and later between snow seasons during my 'gap years', I worked on building sites. I was interested in how things went together, the craftsmanship, and the process of a build.
I also enjoyed studying businesses and economies, and soon did a degree in Construction Management at Uni and Building Studies at Tech at nights, whilst building during the day. As fate would have it, I sat next to Bellevarde's then Operations Manager during a class. We got chatting, he introduced me to John, and I joined Bellevarde in 2009.
I first started onsite as a Contracts Administrator and learnt the way Bellevarde does things from the ground up. After several projects, I moved to the operations side of the business. I was in a very fortunate position to learn building, and the business of building from the best. John is a hard-working builder first. He is also fair in how he deals with people and manages the company with the same rigour he builds. He is a mentor on many fronts.
My role is now focused around working closely with the Bellevarde Management Team to ensure the smooth operation of the company, instilling our core values and principles into our growing team, and setting our future goals into action.
The thing I enjoy most about Bellevarde is that no two days are ever the same. Every design, architect, client, project team, site, detail, or building is different and unique each time. The next best thing is the people. We have some very experienced and talented staff, each bringing their own strengths to the team. We also have the privilege to collaborate with some of Australia's leading Architects, who push creative boundaries, and adventurous clients.
Bellevarde attracts people who want to do whatever they do differently and do it the best it can be done. It makes for a lot of exciting possibilities.