We had lots of ideas about our new house and wanted to be deeply involved, but we lacked knowledge and a budget—we needed someone to trust. That's when Ian McKay told us we had to meet John Fielding.
We had found 650 acres of beautiful land in the hills out of Canberra, and the perfect place on it for our new home—where views, wild flowers, trees, sun and shelter from the wind all converged in the one spot that deserved a beautiful house.
One that sat easily in the landscape and used minimal energy and high technology. One that made it easy to work from home—and live comfortably in the environment.
It was important to get involved in the building process because we knew what we wanted and we both had a lot of enthusiasm.
The time frame and budget were flexible, so above all we needed someone who would deliver a high standard of building work.
Ian took us to a Bellevarde house in Byron Bay for which he was the architect, to see the standard of finishes and the complexity of the building work. That's how we met John Fielding. He is a quiet, unassuming and understated man—a country boy at heart.
We liked the houses he had built—and we liked him. He assessed Ian's plans, and we were thrilled that he wanted to build our home, and would work with us on the project.
We also loved the feel of Ian's houses, and wanted ours to sit snugly in its rural setting, with the internal spaces flowing with the landscape. We worked together to capture differing aspects of the surrounding country—bringing the light inside, and clearing away the barriers between the house and the outdoors.
Ian created a great house for us that incorporated all the facilities we wanted within an effortless design. The property experiences four distinct seasons: winter can be very cold and summer can have scorching days. We wanted good solar qualities and double glazing, heated floors, great airflow and cooling vents.
Ian created outdoor living spaces on all sides of the house so we could always either escape, or manage, the sun and wind.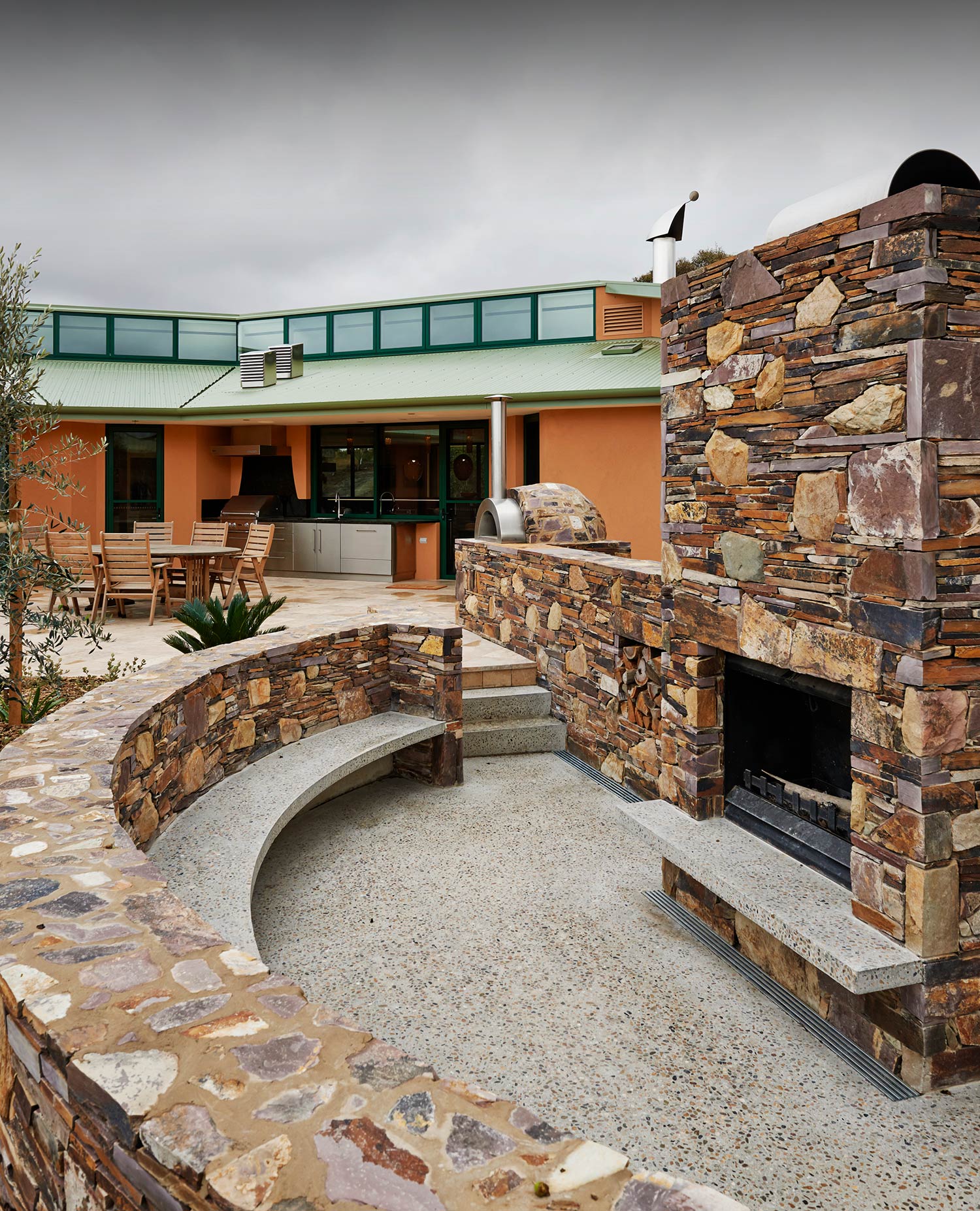 The house was built over a massive open water tank with a gap between the water and the floor. Summer's prevailing hot air flows through vents and over the water.
It acts like a huge 'Coolgardie safe', allowing cool moist air to flow through discreet wooden vents in the floor and under the kitchen bench. It is a natural air conditioner, making for a significantly cooler and comfortable summer environment.
We needed a two-storey garage/workshop/wine cellar close to the house. It was very practical but we found that it would tower over the main house. We hesitated at the extra costs of digging it half underground—until John simply said 'just do it. It will look better forever'. We did—he was right!
Throughout the whole building process John, Steve and all the Bellevarde craftspeople kept contributing to achieve the maximum outcomes for the building. Monthly site meetings with all interested parties were sometimes challenging, as different aspects of the building were resolved. John proved to be an innovative, patient man who contributed to the architect's ideas significantly. He set the highest standards and modelled this to the Bellevarde team.
The team loved the place and what we were trying to do, and took great pride in their workmanship. When we wanted to incorporate bespoke stained glass windows, a large curved mosaic wall in our ensuite and hand-made ceramic lights, Bellevarde facilitated them all.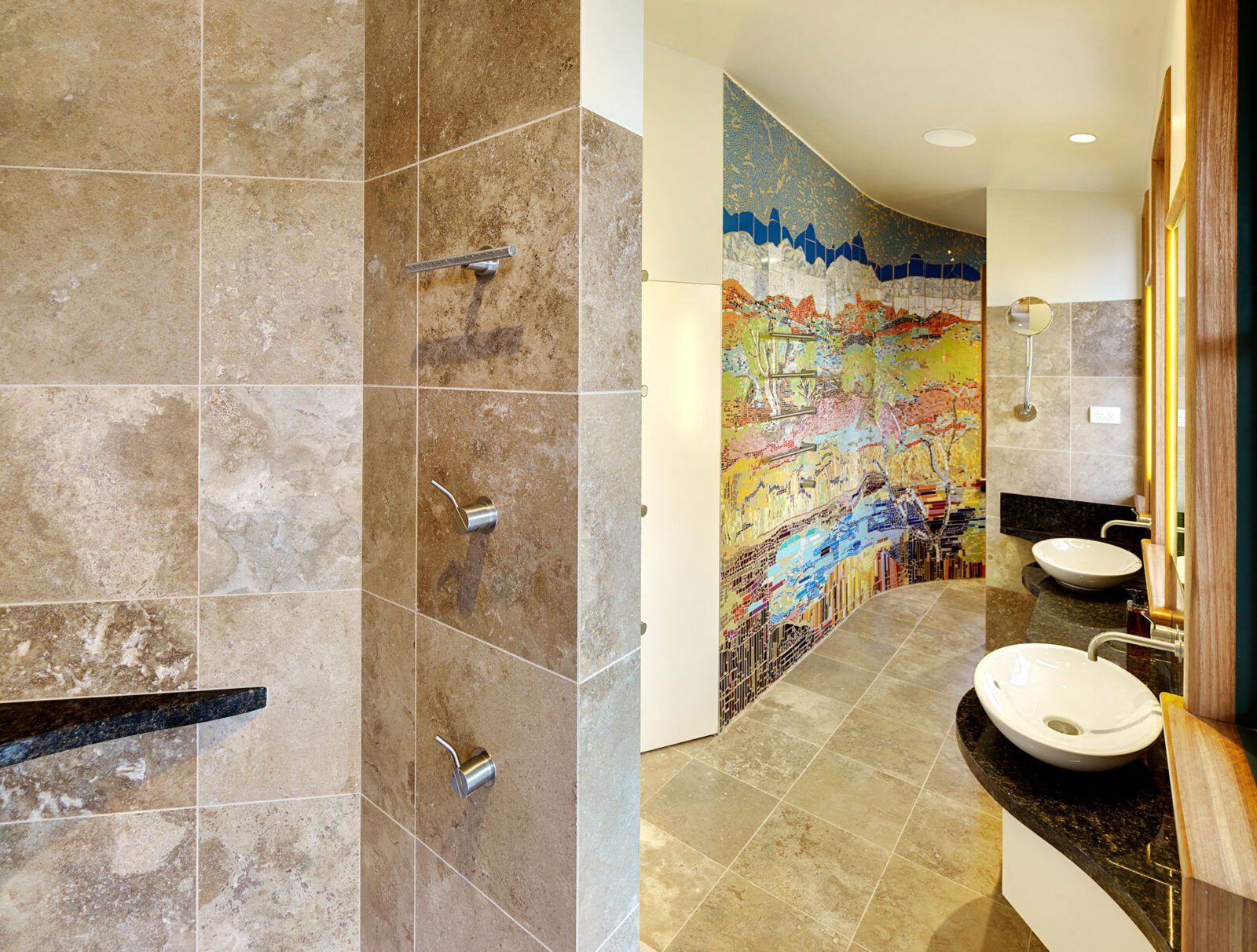 A high level of audiovisual technology was specified throughout the house. Not only did it happen—Bellevarde contributed to the design and placement of components.
In essence we found John to be a highly skilled person with a great team of country builders, who were also excellent communicators and problem solvers. They enabled us to get deeply involved in creating our house.
That's how we've ended up with what we wanted. We love our new home, and are delighted to have had it built by Bellevarde. It was a profound and rewarding experience.
read more