It is all Jennifer's fault.
She found this ad in the Financial Review for a large piece of land just outside Byron Bay. The ad claimed the land comprised 21 acres with 450 metres of beach frontage on the white sands of Seven Mile Beach with Broken Head Nature Reserve and Byron Bay to the north. She also reminded me that all my life I had talked about owning just such a piece of land. For two weeks the ad kept appearing on my desk. We flew up to see it. Game over.
Virginia Kerridge nailed it with her concept proposal which responded and more to our brief. The house is a series of pavilions connected to the main house by a series of covered walkways.
We'd built two houses already with Bellevarde and each had been a resounding success so there was never any question as to who we'd be using on this one. We wanted Mike Faulks as Bellevarde's Project Manager after the great experience working with him on our place in Collaroy.
This build was certainly different, but Bellevarde always seems to rise to a challenge. Unlike Collaroy we were well off the beaten track, with a narrow, winding dirt road through 5 kilometres of rainforest. There was no three-phase power, sewer, town water or gas.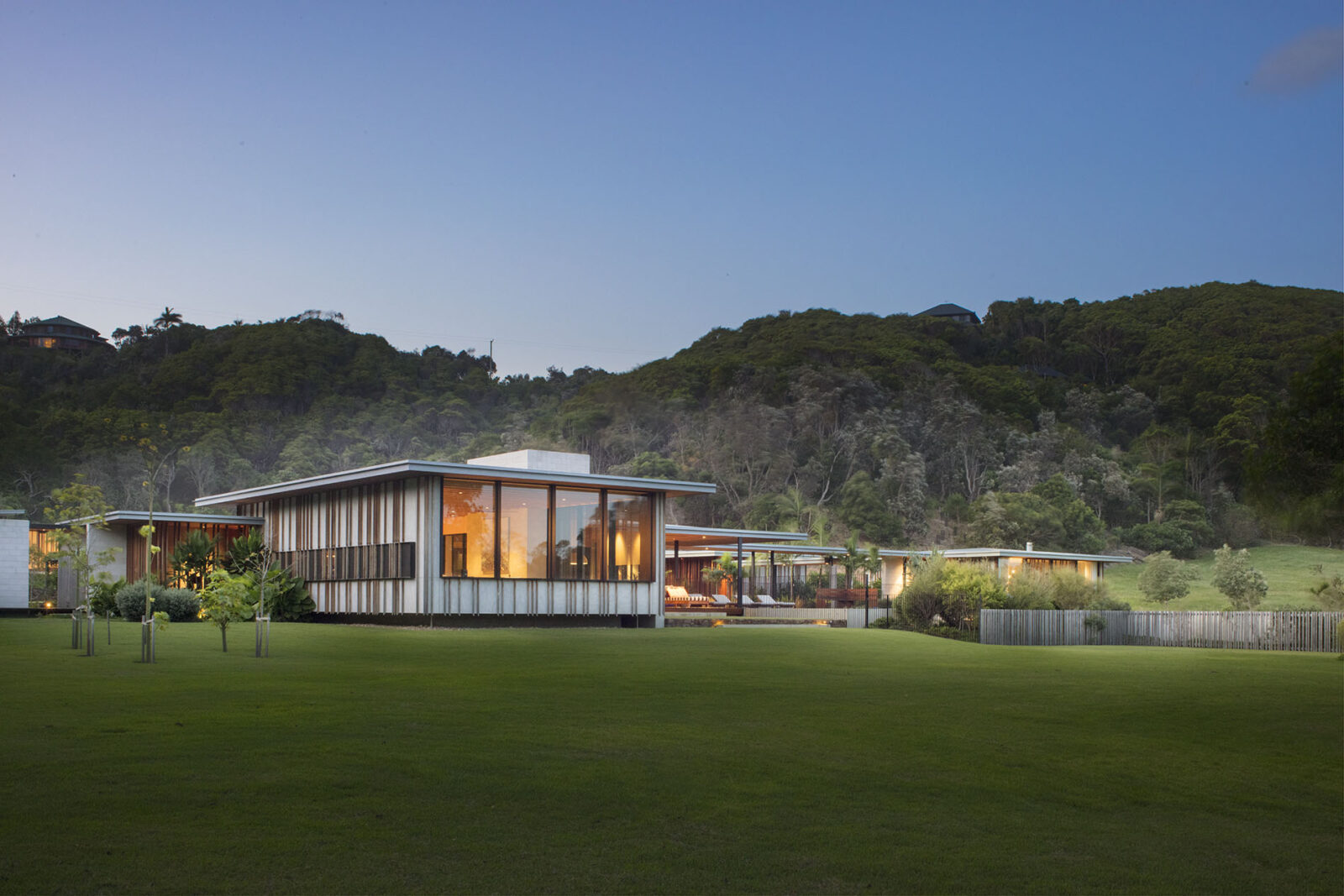 Mike and the team (which included a majority of local craftspeople) lived and breathed the place for a solid 24 months for phase 1 and each was an absolute stickler for perfection. An additional pavilion and a barn were built over the next 12 months. Despite the distances and lack of amenities, nothing was too much trouble and the energy was uniformly positive throughout. Mike's commitment to a project is something else—a number of times I remember Mike ringing to say in his humble way, "Are you sure you want to such and such?" You knew to listen to this and what he proposed as an alternative was always exactly what was needed.
As Jennifer had been the inspiration for this project, it was only fitting that she take charge of, let's just call it, everything. She, project architect Leigh Hellyer from Virginia Kerridge and Mike formed a strong partnership with formidable problem-solving capability. On a project this size, you always expect the odd setback but this build was characterised by a steady drive, a strong team spirit, and no major problems. It was befitting for a house with such a playful design that the build itself was fun.
This was our third build with Bellevarde and the encounters just get better every time. We have nothing but praise for their work and the way they go about it. They've built us a place that feels like a resort and we absolutely love it. I hesitate to say we'd ever do another one but if we do, Bellevarde will be getting a call.
read more